This February, we ran a variety of different events to improve our student guests experience and personal wellbeing.
Each month we hold a Power Brunch and Student Skills Workshop which provides our guests with the opportunity to share their talents or hobbies with other guests here at true Student Living. Our Power Brunch kicked off with a delicious brunch with food from local café and restaurant Ernest which our guests hoovered up pretty quickly! Our guest Karolina from Poland then ran a workshop with some of our other students -telling them about her work with beeswax and some of the products she makes using it. Our guests had a go at trying to make beeswax candles and wraps.
February is definitely a favourite for our foodies as we celebrate National pizza day as well as pancake day. Our guests had the chance to make their own tasty pizzas in our Private Dining Room (which is available for guests to book when they live on site). On pancake day our guests were shown how to make and flip the perfect pancake with a choice of lots of tasty toppings. There was a LOT of Nutella consumed and some delicious pancakes enjoyed together.
Each month we take our guests off-site and this month we decided to explore Hadrien's Wall. We took the train to Corbridge, an old Roman town full of history. We made our way through the village, admiring the beautiful shops and cathedral along the way before we reached the Corbridge Roman Museum. Here, we could see a time capsule of Roman life inside the museum before we explored the remains of the streets they once walked.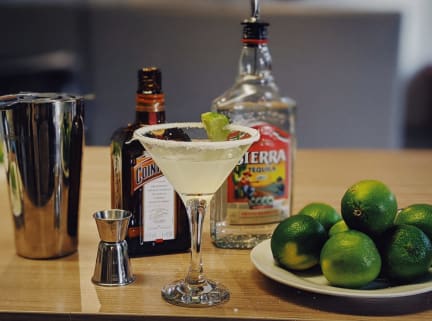 One of our most popular events from the month was a workshop on how to make margarita's. We also threw a mini fiesta in the Festival Zone whilst sipping on the tasty drinks... cheers!